Mike's American Civil War Miniature Wargame Rules - "Iron Brigade"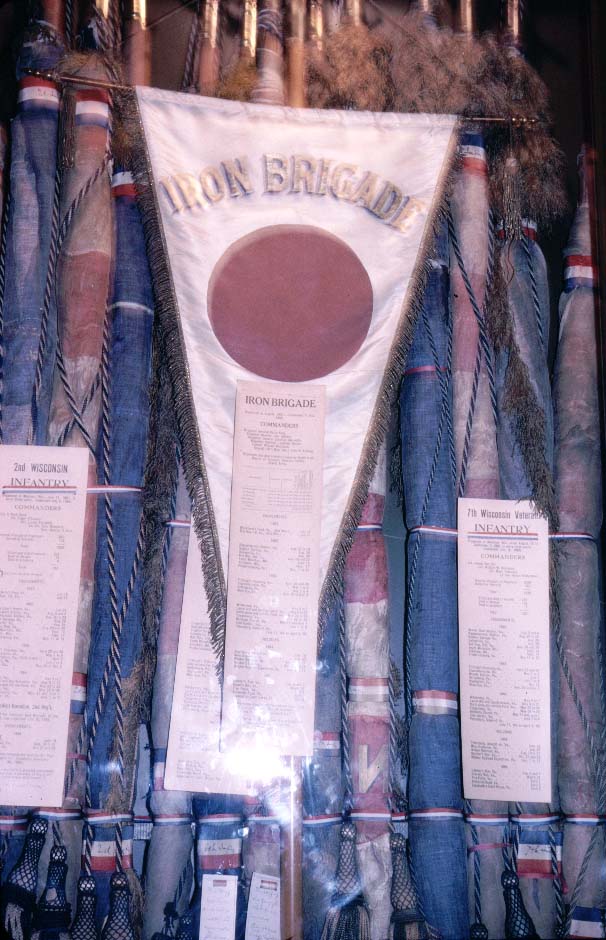 The banners of the Wisconsin regiments of the Iron Brigade used to be on display in the State Capitol in Madison Wisconsin. This is a picture I took of them long ago. Now they are across the street out of view at the Wisconsin Veterans Museum.
Update
Seem the page with my latest rules - "A Perfect Sheet of Flame"

Iron Brigade Miniature Rules - Background
I no longer participate in the wargaming hobby, but since I spent so much time developing these rules and the associated assist program, I figured I would make them available on this web site. At one time I did market and sell a few copies. The rules have a long history, an early version being published in 1976. As a matter of fact TSR was thinking of publishing them under their label back then, but decided instead, to concentrate their limited resources on the newly created Dungeon and Dragons Fantasy game. Back then, most ACW rules were tactical in nature, and these rules are no different. Each unit represents a regiment of infantry or cavalry or a battery of artillery. Though the current version is still tactical in nature, the rules themselves bear little resemblance to the 1976 version. Also the rules were developed around 25 mm miniatures, which was the standard back then, but they should work fine with the 15 mm armies that now predominate.
Unique Morale/Unit Integrity system
Iron Brigade has a unique 8 step morale/unit integrity system that really will give the players the sense of an army slowly losing it's effectiveness as the battle goes on. Each unit losses effectiveness as it takes causalities or makes moves that could reduce cohesion. Personality figures play a vital role as they help rally troops on the brink of collapse. Fresh reserves can play a vital role as they fill the hole in the line or provide the punch to break a wavering enemy. These miniature wargame rules will give the player a feeling of immanent collapse or victory not seen in any other system. Games played by these rules will also result in a casualty rate very similar to actual battles. Your wargame armies are not so much destroyed on the field as driven from it, much like a historical army is.
Simple to Learn and Play
Iron Brigade has an integrated fire/morale and simple movement system that is quite easy to learn and play.
Macintosh Assist Program
If you have access to a Macintosh computer, the assist program calculates casualties and maintains morale/unit integrity for each unit in your army, making a simple system even easier to use.
Much Useful Historical Information Included
You may or may not have fun with the rules themselves, but you may be interested in some of the information which is contained in the battle book, which has additional rules, plus all sorts of information on the weapons used during the American Civil War.
One last thing. These rules are copyrighted and use is limited to personal entertainment purposes, only. Commercial use or redistribution without the consent of the author is prohibited.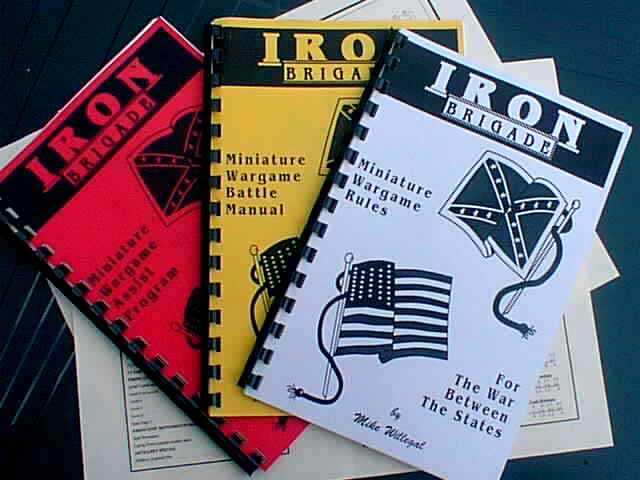 (printed copies ordered from Lulu.com have different cover and binding than illustrated here)


Note that I've been considering changing the free download to a minimal $2.50 charge (through lulu.com) to help defray cost of maintaining this web site. Let me know how this would affect your download decision.


Each purchase provides a few dollars and additional motivation to support and expand upon this website.

Each purchase provides a few dollars and additional motivation to support and expand upon this website.

---
Back to Mike's Hobby Home Page