City Point Maritime Activities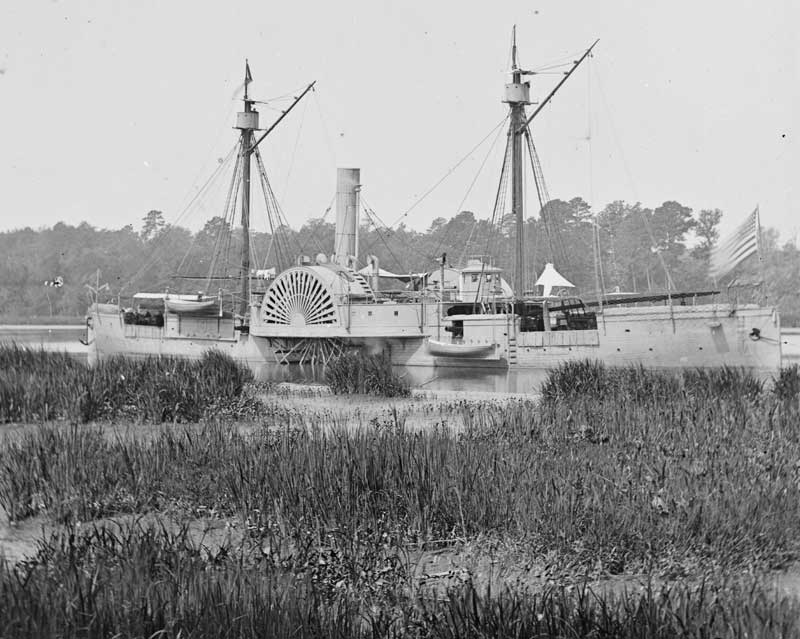 USS Mendota at Deep Bottom (LC-DIG-cwpb-01776)
Naval Support
City Point was close to Confederate lines and just downstream the James River from the ironclads that the Confederates had stationed at Richmond. The US Navy had warships stationed in the James River, including several Monitors to protect from an attack on City Point.

The official records of the navies have a report showing a number of warcraft stationed in the James River on December 5th, 1864. Since I am modeling December 4th, this is useful in terms of what ship might be in the area of City Point. Once identified, further searches on Wikipedia show some details and images of these vessels.



Vessel
Length (feet)

Armament

Type

Alert
64
1 24 lbr how
screw
Canonicus
225
2x15" Dahlgren
single turret monitor
Commodore Barney
143
1x100 lpr rifle 3x9" smoothbore
sidewheel
Commodre Morris

154

1x100lpr rifle 1x9" smoothbore 4x24pdr howitzer
sidewheel
Commodore Perry
143
2x9" 2x32pdr smoothbore 1x12 pdr howitzer
sidewheel
Dawn
154
2x32pdr smoothbore
screw
Daylight
170
4x32 pdr smoothbore
screw
Delaware
161
4x32 pdr smoothbore 1x12pdr rifle
sidewheel
Eutaw
205
4x9"Dahlgren 2x100 pdr Parrot
Sassacus class
sidewheel/double ender
General Putnam


1x32 pdr 120pdr Parrott 2x24 pdr howizer 1x12 pdr
sidewheel
H Brinker
82
1x30 pdr
screw
Hunch Back
179
2x9" Dahlgren, 1x100 pdr Parrott
sidewheel
Launch #4






Massasoit

205
2x100 pdr 4x9" Dahlgren 2x24 pdr 2x12 pdr
Sassacus class
sidewheel/double ender
Mendota
205
2x100 pdr 4x9" Dahlgren 2x24 pdr 2x20 pdr
Sassacus class
sidewheel/double ender
Miami
208
1x80 pdr Parrott 1x9" Dahlgren 2x24 pdr
sidewheel/double ender
Mahopac
223
2x15" Dahlgren
Canoicus class monitor
Osceola
205
2x110 Parrott 4x9" Dahlgren 1x12 pdr 1x12 pdr rifle 1x24 pdr
Sassacus class
sidewheel/double ender
Phlox
145


sidewheel
Picket Boats - Alpha Gamma Delta, Epxilon Zeta
72
spar torpedo
screw
Saugus
225
2x15" Dahlgren
Canoicus class
monitor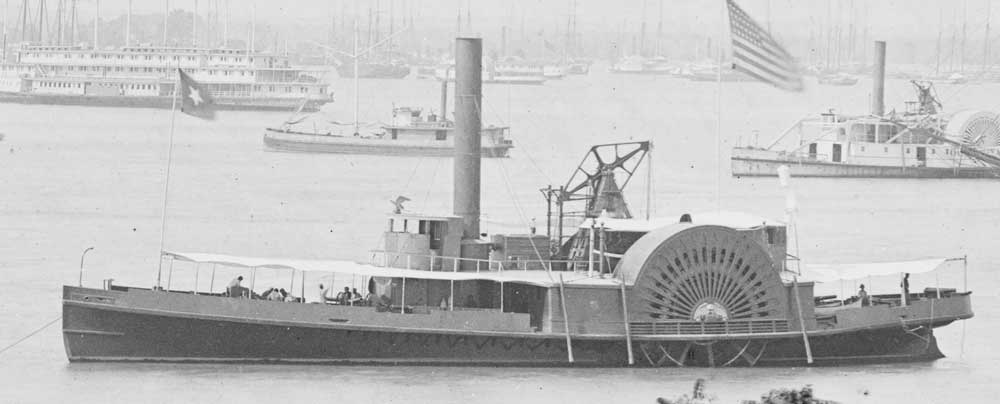 Navy Tug, City Point, Virginia. (crop of LC-DIG-cwpb-01736)
Here is a picture of an armed sidewheel tug anchored at City Point. Tugs were essential in keeping the port operating efficiently. I suspect that this could be the USS General Putnam. Aside from duties as a tug, the USS General Putnam was involved in patrol duties in many rivers in Virginia throughout the war.

USS Banshee at City Point (crop of LC-USZ62-102109)
Frequently, after adjudication by a prize court, the US Navy would purchase captured blockade runners. Because of their speed, once armed, they made ideal vessels to pursue other blockade runners. I'm fairly sure that this image is of the USS Banshee.

---
The Transports
Take a look at what is loaded on the transport in this crop of a picture from the library of congress. Food for horses - the stuff that the army needed more than any other commodity - by a wide margin. By the way, I'm not 100% convinced that this picture is of the James River.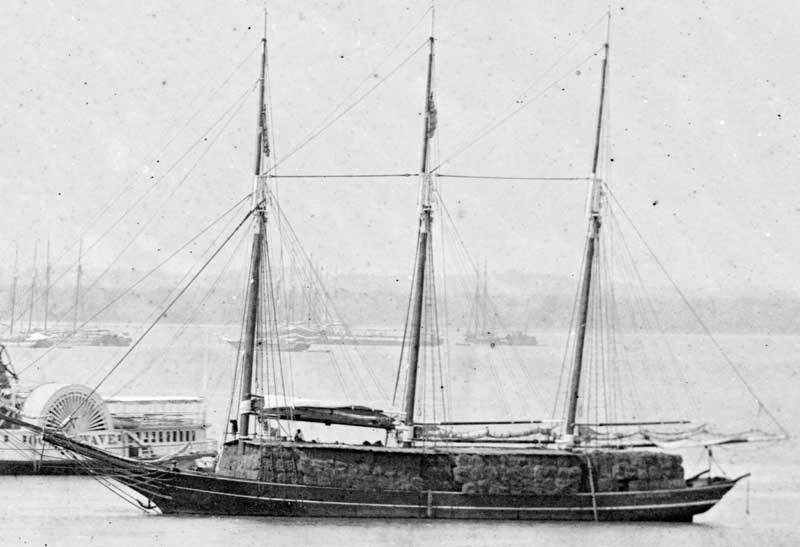 City Point, Virginia. Transports on James River (crop of LC-DIG-cwpb-01736)
The following interesting image shows how artillery is moved by sea. I'm guessing the limber chests are stored below deck.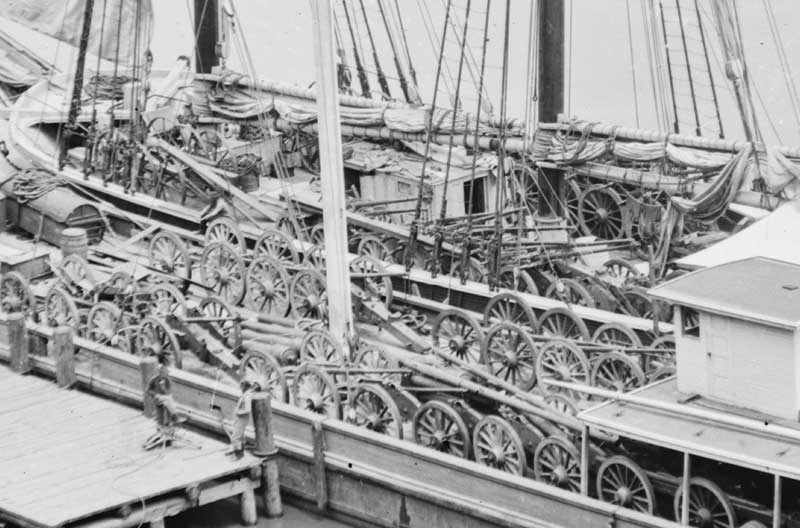 Crop of Library of Congress item LC-DIG-cwbp-00637
---
The James River
When modeling the James River and vessels on it, it can be helpful to understand the nature of the river. The river runs fromthe Appalacian Mountains to near the mouth of the Chesapeake Bay. The head of navigation is at the falls at Richmond. This is what made Richmond so important. Though the head of navigation is at Richmond, navigating to that point, involves following a narrow channel. Much of the area of the river is actually shallow flats, with depths of only a few feet.
Take a look at this natical chart of the area around City Point. It is a crop of a civil war era US Navy chart of the James River, found in the Library of Congress digitized online archives.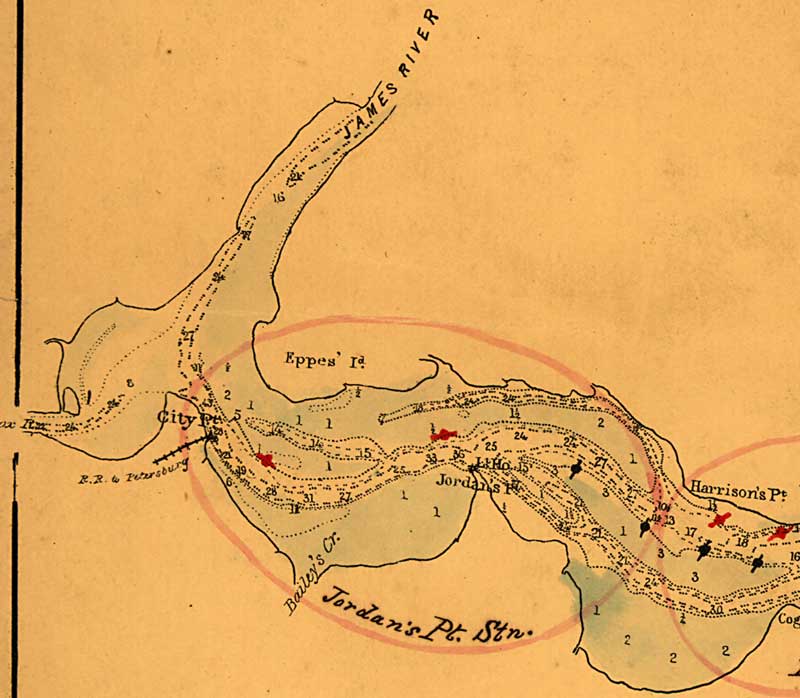 It should be clear that any boats that draw more than a few feet, have no choice, but to stay in the channel that brushes alongside the wharfs at City Point. The accounts of the Battle of Trent's Reach in January, 1865 are as much accounts of the groundings of the Confederate attackers when they strayed from the narrow channel as anything else. Finally, period photographs of City Point, show the that the shoal areas are indeed, devoid of vessels.
---