Past Fish keeping Experiences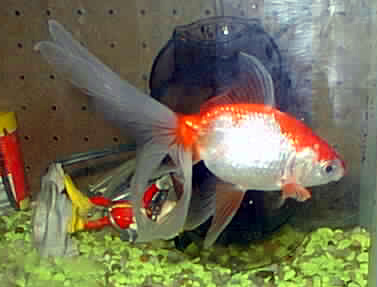 Cleo - our pet goldfish
I've been keeping tropical fish for most of my life, usually with an eye towards having the fish in my tanks spawn, and raising the fry. Although rarely successful, I've raised a few young of each the following species.
Killies: Aphyosemion Bivittatum: Original parents spent 9 days in the mail, before arriving at my house!
Guppies: Who hasn't.
Dwarf Gourami's: Easy and fun to spawn, tough to raise the tiny fry.
Jack Dempsey: Spawning and raising of fry documented on this web site in the fishy log
Other species that have spawned, but I have been unsuccessful in raising the fry for one reason or another.
Killies: Aphyosemion Gardeneri (or something along those lines): No tanks available to grow out the young.
Swordtails: Young were lunch for other inhabitants of the tank.
Serpae Tetra: Spawned often in the 55 gallon tank, but weren't real happy in the bare 7.5 gallon tank I had available for breeding.
Cichlid: Apistogramma Bitaeniata(I think that's the correct species): One of the three females I had with one male spawned a couple of times in a ten gallon tank, but I never saw any fry.