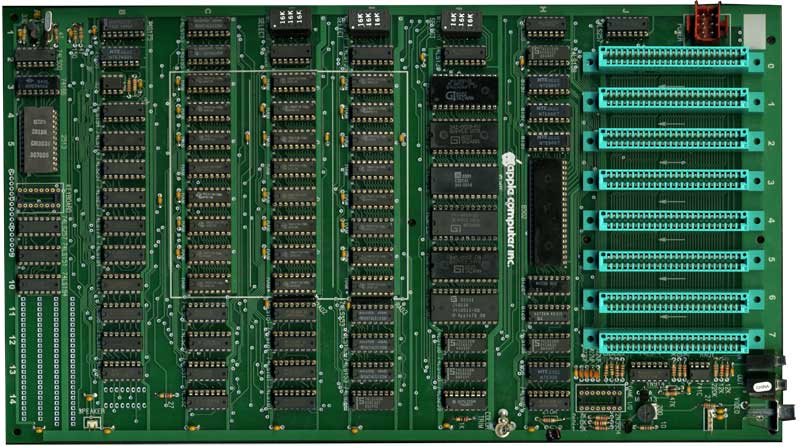 Background:
This is purely a hobbyist endeavor, originally motivated simply by the desire for a Rev 0 board to use in my original Apple II. Also, the flakey nature of the existing motherboards that I have been using, has been a significant motivating factor. Building a single PCB was not economically sensible, so I initially built 6 with the lowest pricing that I could find. I only needed 2 boards, so decided to put together kits for other hobbyist that might be interested in this project. Much to my delight, the initial lot of boards has been completely consumed.
It has been a lot of fun and a challenge to try to find best source for each component. This search has become an interesting hobby unto itself for me.
If you are interested in building a rev 0 replica for yourself, I would hope that you have some previous kit building experience. If not, I would start with a smaller project, such as one of Vince Briel's Apple 1 replica kits. There are over 2500 holes on this board, most of which have the leg of a component in it. This project cannot be done in one evening.
10 Reasons Why You Should Build a Rev 0 Replica:
Building a computer is fun and rewarding.
Original Apple rev 0 systems are rare (about 6000 made) and costly to obtain. If you run across one at a bargain price, let me know, as I have been looking for several years.
Your original low serial number Apple II lost it's rev 0 board somewhere along the way.
A replica rev 0 will be more reliable than a typical 30 year old original.
Early micro-computers are great vehicles for learning about the basics of computer technology.
Unlike some early micro-computers, a rev 0 Apple II is a completely functional computer. Back in the early 80's, after adding two Disk II, floppy disk drives, my mother was able to computerize her accounting business with my original rev. 0 Apple II.
A rev 0 Apple is a great tool for learning other aspects of electronic design. An example is the shutter tester card I built using my Apple II, just a couple of years ago.
Integer BASIC and Applesoft BASIC are languages that are ideal for learning the basics of computer programming. I launched a career in software engineering by learning Apple Integer BASIC.
Many, many programs are available for the Apple II (most are free to download from various web sites).
Having built your own computer, you will have bragging rights around your neighborhood.
Additional components required:
In addition to a PCB and some basic tools (such as a soldering iron), you will need the following components, in order to operate your rev 0 motherboardl:
Components - see this page for more information about what is needed and where to get it


Applesoft or Integer basic ROMs - see this page for more information

Apple II compatible power supply

Apple II compatible ASCII keyboard - I make a compatible PS/2 keyboard adapter kit for this application


A TV or monitor with composite video input

Power, keyboard and composite video cables.
Many of these items can be obtained by locating and purchasing a relatively inexpensive Apple II plus computer.
Your best (and most inexpensive) bet is to buy a complete Apple II plus, which are very inexpensive on ebay, in order to source these components.
Preview the manual:
Download and read the manual which can be found with
this link
.
Note about ongoing changes to kits
Due to the vast amount of time required to put together kits, I currently only ship bare PCBs for Apple II rev 0 and Mimeo reproductions. Most parts are available from standard Unicorn Electronics (http://www.unicornelectronics.com) stock. See this page for more information about what is needed to build a motherboard and where to get it.
Ordering and Availability:


I no longer sell Apple II rev 0, kits, boards or documentation. However, if you are willing to try to make your own boards, I have made the CAD package package available for download
here
.
| | |
| --- | --- |
| Apple II Rev 0 Physical Specifications | |
| PCB dimensions | 14.275 by 8.5 inches |
| Layers | 2 |
| Replica silkscreen fonts | custom designed replica fonts |
| Ordinary trace width | 15 mils |
| PCB holes of all types | 2579 |
| Vias | 385 |
| Total number of components | 279 |
| Sockets | 90 |
| Soldered components | 189 |
| Different component types | 79 |
Example original Apple II Systems with rev 0 motherboard seen on Ebay


I watch ebay closely for original Apple II items. Most of the Apple II's seen there, do not have a rev 0 motherboard. Occassionally an Apple II shows up that does have a rev 0 motherboard in it. I've decided to log the ending prices of those auctions I've noticed on this page.
| | | | |
| --- | --- | --- | --- |
| Year | Auction | Note | Selling price |
| 2002 | 2080413427 | mobo #2000; toggle switch power supply; later version autostart ROM monitor | $3850.00 |
| 2007 | 160120886230 | mobo #1579; A2S1-1298; toggle switch power supply; integer ROMs; | $2138.00 |
| 2008 | 200206722122 | mobo #5353; A2S1-5163; PS - A2M001; 2nd or later rev keyboard; Applesoft roms; extras | $910.00 |
| 2008 | 220222007373 | mobo #3155; A2S1-2869; early PS; 2nd or later rev keyboard; Integer roms; custom case; extras | $1230.00 |
| 2008 | 190239195642 | mobo #1-454; 3rd party case, keyboard, PS; Applesoft ROMs, includes FW board with integer ROMS & early paddles | $260.00 |
| 2008 | 130252955819 | mobo #2688; A2S1-2410applesoft ROMs, later rev keyboard and power supply; condition unknown; minor mods | $247.50 |
| 2009 | 270347641839 | mobo #4669; A2S1-4573; integer ROMs&applesoft card, PS-A2M0001-4526, condition unknown, case, raised power switch | $899.00 |
| 2010 | 260584604047 | mobo#504X;A2S1-4877; applesoft ROMs, PS - A2M001, original box, carrying bag with no bite, keyboard probably original | $1009.99 |
| 2010 | 230494178535 | mobo#???;A2S1-676;early keyboard;probably early powersupply;working | $1125.00 |
| 2010 | 190412621690 | mobo#890;A2 plus case & keyboard; 3rd party PS; rom card with integer ROMs & Applesoft ROMs on MB; 6 color mod on MB removed | $716.00 |
| 2010 | 380293156020 | mobo#3297;A2S1-3149; integer ROMs, PS - A2M001/3297, raised cap keyboard (not sure whether it is 1st or 2nd version),DISK ][/2113 | $1268.53 |
| 2011 | 230697434841 | mobo#3098;A2S1-2812;integer ROMS, replacement PS, dome cap keyboard - but no details on if it is original. | $6100 |
| 2013 | 251210777240 | mobo#????;A2S1-2411;applesoft ROMS, replacement PS, first rev keyboard (missing power cap and broken keys) | $4716.66 |
---
Back to Mike's Hobby Home Page