Mike's Model Railroad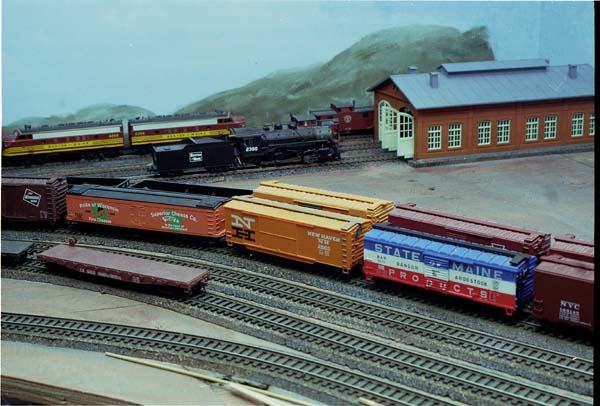 The engine and freight yards are starting to take shape - though no ballest yet
Our model railroad was supposed to be based on the Boston and Maine in the steam to diesel transition era. We are not modeling any particular place on the line, but just trying to get an interesting layout going. Although modeling an exact time and place like you see in the magazines sounds great, I just don't have the space, time and energy to do that sort of project right now.
The reality of understanding what rolling stock could be used in a specific period and then finding those cars has also been quite tough. So it turns out that a lot of our rolling stock is out of the initial period I wanted to target. Because of this, I may eventually model several periods, although currently the emphasis is still on the early diesel period, and the locale will most likely remain New England. Most of what we have modeled (rolling stock and locomotives aside), could have existed somewhere in New England from the 50's right up to the present, so we really shouldn't have too much of a problem with changing periods.
Also we have prototype Guilford trains (sometimes with Conrail power) rolling by down the street and I am now getting the urge to model what we see every day. Perhaps I will switch the whole thing over to the present since it is so much more relevant to everyone around us. Guilford uses a lot of GP-38's and GP-40's so it would still work with my minimum 18" radius layout. Only time will tell.
---
---
---
---
---
---
---
---
A Model Railroad is Never Done
---
Back to Mike's Hobby Home Page